When designing machinery and installations, it is important to pay attention to the lubrication. Vansichen Linear Technology made in co-operation with DLS Schmiersysteme GmbH an automatic DLS lubrication system to 16 lubrication points with feedback available.
OPERATION DLS LUBRICATION SYSTEM – DIRECT LUBRICATION SYSTEMS
The Flex Pump is the heart of the installation, it electronically adjusts the lubrication quantities, and can both pump oil and grease to NLG Class. The pumping is done by a two cylinder pump technology and with a pressure up to 70 bar. The Flex Pump does not need to be placed in the immediate surroundings of the lubrication point. There are 1 to 4 outputs available on the pump, through splitters each output can further provide up to 4 lubrication points with lubricant. There is a total of 16 lubrication points which can be operated by one Flex Pump. The cartridges with lubricant (as desired by the customer) can not only be replaced in a simple manner, but are also environmentally friendly.
FEATURES
Automatically controlled system with 1 to 16 lubrication points.
Both oil and grease (up to NLGI class 3).
125 cm³//250 cm³//400 cm³
Pressure from 12 to 70 bar.
Control and power (12/24 V) via the PLC (incl. error messaging).
BENEFITS
Simple compact system for multiple components.
Economic solution.
No manual lubrication required.
Pre-filled hoses.
Pipe break detection.
IDEAL APPLICATIONS
Linear guide carriages
Ballscrews
Rack and pinion system
SCHEDULE SETUP DLS LUBRICATION SYSTEM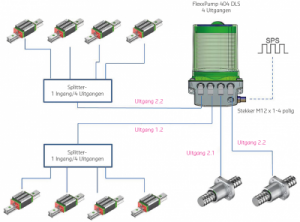 MORE INFORMATION?
If you are interested in extra information, please contact us via info@vansichen.be or +32 (0) 11 37 79 63. We have a demo case available, with explanation by one of our employees who shows clearly how it functions.